In his third press conference in 17 days, President Obama stood in front of the American people and told them what they were thinking.
He told the American people that they were "sold." He told the American people that he was listening to them, and that republicans were more concerned with ideology and playing the Washington way.
Then he preceded to lie about what the American people believe.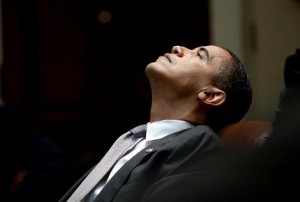 Obama made the claim that 80% of the American people support raising revenues (fancy talk for tax increases) as a way to come to an agreement on the debt limit.
At best, the number is somewhere around 43%, according to a Gallup poll. A Rasmussen poll shows that "just 34% think a tax hike should be included in any legislation to raise the debt ceiling."
Well, there goes the argument that you understand the American people better than the Republicans.
There's no doubt that everyone in this debate is in re-election mode. The 2012 election will be here before you know it, and it looks as though the debt limit talks are going to sway a lot of people one way or the other. Mitch McConnell has already stated that if the country does default it will have catastrophic results for the republicans electorally.
However, we have to remember, Obama has launched a re-election campaign, he's in campaign mode as well. Is it any surprise that before this 17 day marathon of press conferences, Obama hadn't held one since March? Of course not, the campaign wasn't in full swing back then. Now, the debt limit is a major topic, and a major election issue, Obama needs to capitalize on it.
But he's doing a rather poor job. He is the president, a deal should go through him. But instead Obama sat on the sideline until about four weeks ago. And now that he's in the debate…well, it hasn't gotten much better. It seemed a deal was close, then entitlements somehow got taken off the table and tax increases became a center piece. Instead of bringing people together, which was a campaign promise of his, it seems the sides are growing further apart.
Gosh, I thought Obama was the guy who would unite us and bring us together. We were tired of the bickering, that's why we voted for him (well, I didn't, but other people did). Has he come through on that promise at all? Or any of his promises outside of health care?
That's a big, fat, no.
The administration is claiming that a deal will get done and the government won't default, yet Obama himself opposes a short term solution that buys more time to argue the cuts. Wait, I thought default would send the world into a financial fireball, the likes of which won't be seen for another fives years when global warming kills us all.
This is all politics, for both sides. They're both stubborn, someone needs to step up, bring a real compromise to the table, and avert the crisis. Where are the real leaders at?
–jb