Remember when Ryan Seacrest would say, "Seacrest Out" after American Idol?
Whatever happened to that?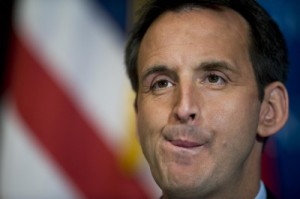 Regardless, Tim Pawlenty's "American Idol" journey has come to a close. Cue the latest cover version of "Home" and the sappy slow motion look back at his time in the campaign.
Pawlenty never felt comfortable in the race, and he certainly never felt like presidential material. I always described him as low-fat sugar-free vanilla ice cream. Don't get me wrong, he was a nice man, but too nice. He seemed like the kind of guy who would pay the sticker price for a used car without even haggling.
We needed a president who would at least get the dealer down a few thousand.
I did enjoy a nanosecond of enthusiasm for Pawlenty. The first video his campaign released was polished and had the look and feel of material attributed to a top-tier candidate. In retrospect it seems he had the behind-the-scenes staff for a successful run, he just didn't have the in front the camera showmanship and straight shooting attitude.
In a sense Pawlenty lost his way in the campaign. I applauded him early on for talking straight with people. He went to Florida and spoke about entitlement cuts, he went to Iowa and spoke about eliminating farm subsidies. That's the sign of a gutsy straight talker. Doing those speeches in those locations is like going to Compton and advocating for the ban of tinted windowed Cadillacs.

Pawlenty was positioning himself as the candidate that would tell it straight, right to your face, whether you wanted to hear it or not. That is until he uttered the words "ObamneyCare."
Pawlenty gained national attention when he directly tied "ObamaCare" to "RomneyCare" in Massachusetts. The right championed his straight talk and his courage to tie to the GOP front runner to the most hated piece of legislation in recent memory. However, when it came time to shove "ObamneyCare" directly into the face of the latter half of the adage, he quivered in fear.
Pawlenty backed off the word in the CNN Debate, and his straight talking persona that he had done so well to build up, came crashing down. The "ObamneyCare" debacle had ruined his campaign, he was cast as "weak" and "too nice" all adjectives that I wouldn't disagree with. It was as if the true Pawlenty had shone through.
The word came up yet again in the Thursday Fox News debate, this time Pawlenty attacked Romney for his connection with ObamaCare, but it was forced, it wasn't genuine and besides, Romney had already crafted the perfect response to that assertion. The "ObamneyCare" ship had sailed.
So now that Pawlenty is officially gone, who benefits? Ironically enough, Romney might be the big winner. Pawlenty was by no means a Tea Party favorite. Bachmann's take down of his policies as Minnesota Governor proved that. He was certainly a "generic republican," and he was the only "generic republican" focusing on Iowa.
Now that Pawlenty is gone, it opens a door for Romney to put his stamp on the Hawkeye State. Pawlenty's small contingent of supporters will most likely align with either Romney, Perry, or Huntsman. But I think Perry is too "tea party" for them and Huntsman isn't running a very obvious campaign (check out his website, it's the most frustrating bit of internet I've nearly ever encountered). Romney will pick up most of the supporters of the now defunct Pawlenty, he will benefit the most.
So as images of Pawlenty walking slow motion through a crowd of exasperated Iowans graces the screen of his farewell video; we know that, just like America Idol, the campaign gets tougher from here, but his departure is for the better. The more defined the field becomes, the more focused it becomes on Obama and his failed performance.
Pawlenty out.
–jb