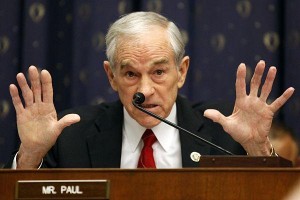 On a earlier episode of The Current I made the comment about how some big news story would break about Ron Paul now that he's sitting comfortably in the top tier of the Iowa polls.
By the way, that's a given in presidential politics, once someone his the top spot, something, anything, will hit the news media – whether they withstand that initial jolt of media spotlight says a lot about their campaign and potential to win.
Ron Paul's big story that might do him some serious damage, are the dreaded Ron Paul Newsletters. Essentially, a series of newsletters were released under Ron Paul's name during the 70′s, 80′s, and 90′s. These newsletters were endorsed by Ron Paul – which is to say he allowed the writers to use his name, and he was financially compensated based on the sales of these newsletters. According to The New Republic, which provides several links to scanned copies of the newsletters, several issues even list Ron Paul as an editor, which Paul himself has denied since 2008 when these newsletters hit the news media.
In a recent CNN interview, Paul claims to have never read the newsletters, he said he didn't even know about the incendiary comments until 10 years after they were published – which is obviously a lie because the newsletters were an issue in his 1996 House race. He says he disavows them and that he never had any editorial insight or overview of the newsletters.
The editorial oversight denial is also suspect, considering some newsletters list him as an editor, and in a CSPAN interview in 1995 he plugged the newsletters as more than just some publications written under his name.
There are obvious implications if it turns out Paul wrote these articles, but even if he didn't, it's very hard to believe that he didn't at least read these newsletters when they were released.
Just think this through.
Ron Paul was part of an organization that published and distributed the newsletters (Ron Paul and Associates). The newsletters were marketed with Ron Paul's name is giant letters in the masthead. In the CSPAN interview in 1995 he plugged the newsletters as if they were part of his larger plan to "educate" people. And most importantly, he profited from the newsletters (to the tune over over $1 million). So, it stands to reason that Paul probably at least read the newsletters, if not previewed them before they were released.
So I find it hard to believe that Ron Paul conveniently didn't read, or know about, any of these newsletters which included incendiary comments from as far back as 1978 to as recent as 1995. This would also mean that over a nearly 20 year span not a single person even told Ron Paul that newsletters bearing his name contained content that could be deemed racist. That just isn't believable.
I'm not sure if Ron Paul wrote this stuff, in fact my guess is he probably did not, but that does not excuse him from responsibility of the contents. There is no conceivable way that Paul was unaware of the contents, he had to have either read them or been told about them. Reading this racist content, in a publican that bears your name, and allowing the publication to continue without more scrutiny or oversight, is essentially an endorsement of the content.
But, as is the case with most political scandals, it's not the crime, it's the cover-up. Ron Paul's story is he never read them, he never knew of the content, and he disavows them. That's clearly false. He must have known about the content. And I think from his body language and tense nature in the CNN interview, he clearly realizes this issue isn't going away and his excuse isn't going to work. The truth will eventually come out, especially now that the mainstream media has picked up the story.
So, Ron Paul should just tell the truth, whatever that may be. It is worse for this newsletter scandal to be true and for him to have lied. It's better for it to be true and for him to be honest. The truth might look really bad; worst case scenario he wrote the columns, best case scenario, he didn't write them, but knew about them and failed to stop them. But at least with the truth he could maintain his squeaky clean record of being a straight shooting honest politician. That's the allure of Paul, it's not his foreign policy stance, or even his tough talking stance on the budget, Paul's main support is based on his consistence, honesty, and perceived integrity. If he lies for months about this story, that record is tarnished.
Politicians caught in scandals have made the same mistake over and over, they lie. The American people respect those who tell the truth, regardless of how ugly the truth may be. Paul and his team need to remember this, it's not about the scandal…
…it's about the cover-up.