The Iowa Caucus just wouldn't let go. I guess they had emotional attachment problems.
It might have taken until 2:45AM EST, but the Iowa Caucuses were finally decided, and Mitt Romney got a slight victory, and when I say slight, I mean slight victory, over Rick Santorum. A mere eight votes separated them. Quite remarkable, and it was a very entertaining process to watch. First we had no idea why the vote tallying was taking so long. Then it was rumored a truck from Story county was delivering ballots slowly, then that was found to be false. Then Fox News reported that two precincts remained, but they had no idea why they weren't being counted, and it seemed the Iowa Republican Party had the same lack of information.
Then finally one of the precincts was counted. It was then announced that a precinct in Story county was incorrectly counted and the recount gave Romney some extra votes. And then finally shortly after 2:30 in the morning, the chair of the Iowa GOP announced that the Santorum and Romney campaigns had agreed on the vote totals from the final precinct, and Romney had won by a mere eight votes.
Take a breath, it's over.
The lead up to the Iowa Caucus was nearly a year, and you sure can't say the finale was anti-climatic.
But where do we go from here? That's one of 50 states, and in the grand scheme of delegate counting, it is rather meaningless. So what does it all mean? Romney won, but does it really matter?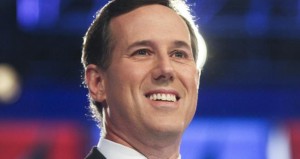 The answer to that is an emphatic no. There is something to be said about the fact that Romney has essentially been campaigning for the presidency since losing in 2008, so squeaking out a win in Iowa by a single digit vote difference isn't much to email your supporters about.
On the flip side, it wasn't until recently that Romney campaigned in Iowa, meanwhile Santorum had moved his family there and visited all 99 counties, God bless the man for accomplishing that boring feat. Santorum has the edge here in momentum – he was polling in single figures only a few weeks ago, and all of a sudden he's now sitting in the top tier. Quite the ascension. But can he hold on? Can he convert this into a close New Hampshire race and possibly a win?
The latest Gallup Daily Tracking Poll shows Romney with a three point advantage over Gingrich, and Santorum polling at around 8%. Keep in mind, this does not include a full run of polling after the Iowa Caucuses took place, so this poll will not show the full depth of a Santorum bump, but this poll will indicate if any pre-Caucus media attention gave Santorum a bump. He did see a 2% increase from the previous poll, so I would imagine he'll see a decent post-Caucus bump in the next few days.
But the national polls don't matter; New Hampshire matters. Again, we won't have a New Hampshire poll until Friday at the earliest that includes sentiment after the Iowa Caucus, but Santorum certainly has his work cut out for him. The last poll in the Granite State showed Romney with a 29% advantage and Santorum sitting at 6%.
The key is, can Santorum take advantage of the momentum? It's already been reported that in one day he was able to raise $1 million, an impressive feat considering not more than a month ago he had to extend his $250,000 money bomb to a fourth day and still didn't reach the quarter-million mark. But can he wisely spend that money? Reports indicate that advertising time in New Hampshire is largely purchased, so he can't run commercials, not that TV ads won him Iowa anyway.
Santorum has one thing going for him; it's his turn. This has been an election of bubbles. Every candidate not named Mitt Romney and Jon Huntsman have seen a rapid rise in the polls, followed by a loud popping sound, and a rapid decline in the polls. Santorum was on deck, and now he's at bat. I don't think it matters how he spends that money in New Hampshire or that he can't buy ad time or visit every square inch of soil, he's the flavor of the week, and he'll be the flavor of the week regardless of where voting is taking place.
Will Santorum win New Hampshire? I don't think so, Romney is up by too much, and with only a week left Santorum would have to do an awful lot of convincing. There are two debates between now and the primaries, and Santorum has not been quiet on the debate stage. If he can handle the pressure of being a few podiums over in the center of the stage, he might be able to weasel his way to the top, if not he could stall. But even a close second or third in New Hampshire would be enough to carry momentum to South Carolina, and that race is up for grabs right now.
There are, however, other candidates in this race. Here's what's next for everyone else.
Mitt Romney – It's do or die time for the Mitt-ster. New Hampshire is his baby, while he did spend some time in Iowa, he has made it clear New Hampshire is his focus. If he doesn't win the granite state he suddenly becomes very vulnerable. If he wins by the margin in the current polls, he'll sail those New England Atlantic Coast winds to Tampa and take the nomination.
Newt Gingrich – Time to get angry, but not too angry. Being angry isn't difficult for Gingrich, he could be sitting in a box of kittens and still be angry. This Romney PAC that may or may not be associated with Mitt, but let's be honest it is, has been hitting Gingrich pretty hard over the last few weeks, now it is time for Gingrich to fight back. He needs to make solid well rounded negative points about Romney. Gingrich cannot play, as he would say, "Mickey Mouse games." Gingrich is known for his intelligence, poise, and ideas, he needs to use those traits in his fight against Romney.
Ron Paul – It's over for Ron Paul, impressive attempt in Iowa, but he needed a caucus victory to really make an impact. I actually think, based on poll numbers and his own hyperbole, that his caucus performance was rather disappointing. He was expected to place second with an outside chance of winning, instead he placed third by 4,000 votes. He has the enthusiasm from a dedicated fan base, but not enough broad support to win any state.
Rick Perry – He really needed to beat Gingrich in Iowa. That would have been a moral victory for the Texas Governor and would have at least provided some show of support. Perry focused hard on Iowa, but also has solid support in New Hampshire and South Carolina. After "reassessing" his campaign for a mere 16 hours, he said on twitter today that he would be headed to South Carolina for a victory. That's a smart move by him, we have very little poll numbers from South Carolina since Gingirch's fall, but we assume the state is essentially up for grabs. Perry has done decent there, and now that Bachmann has left, he might pick up some of her supporters, although they are few and far between. However, a disappointing performance in South Carolina will surely spell the ultimate demise of his campaign.
Michelle Bachmann – She suspended her campaign, which legally gives her the option to jump back in, which might seem like an option now, but after struggling in Iowa and to make any noise in the debates, it's hard to see a scenario in which she jumps back in and has success. She'll go back to Minnesota and focus on being a Congresswoman.
Jon Huntsman – New Hampshire or die, it is that simple. Huntsman has pulled a Santorum in New Hampshire, he's all in. If he fails to take the Granite State, or fails to finish in the top three (he's polling in fourth right now) he'll immediately drop out. However, if he wins or comes in the top three, he'll really have to fight to get in the top tier considering he has limited operations in other states.
There are two debates before New Hampshire, those will be critical for everyone. Romney will need to defend himself against inevitable attacks from both Santorum and Gingrich. Santorum will need to make some noise and prove he can handle the pressure of center stage. Gingrich will have to fire some verbal nukes towards Romney. And Huntsman will have to appeal to New Hampshire voters who are still not sure about which bubble to fill in on Tuesday. It will be an interesting debate and a critical one as well.
Until then, enjoy this crazy political climate. Elections are addicting to watch and see unfold, and they only come every so often, take it all in while you can.
–jb
UPDATE
Well, we have a New Hampshire poll. It's a Washington Post poll and it indicates that Santorum might see a bit of a bump after his surprising Iowa finish.
Fresh off his near-win in Iowa, Rick Santorum has leaped to double-digits in The Washington Times/JZ Analytics Poll, taken Wednesday, more than tripling his support from last week.
He's still in third, and he's still 27% behind Romney, heck he's still 13% behind Paul, but anytime you can triple your support you're doing well.
Tomorrow we'll probably get a better idea of if this poll is an outlier, or if a significant Santorum bump in the Granite State is the norm.